For 55 years since the establishment, we have been trying quality improvement and stable
supply,accordingly the wipers which are more suitable for users needs have been
developed in our company. At present,we check all the products by Metal detectors of high precision,then,
disinfect them with two kinds of antiseptic solutions according to a use. Moreover,to have pack package of high secret and to avoid wrong delivery, we use the
packages of classified colors according to a use.

Therefore,our wipers are receiving very good reputations among our customers.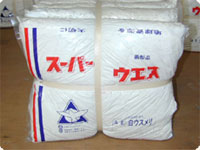 [] White knit []